---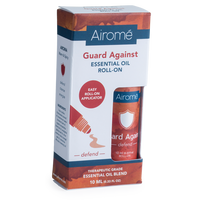 Guard against essential oil roll-on: guard against seasonal threats with this potent blend of botanicals derived from the legend of the four thieves.
Use it to purify and uplift the body.
Each roll-on contains 100% pure therapeutic grade essential oils, blended with fractionated coconut oil, so it's already diluted and ready to be applied easily with the stainless steel roll-on applicator.
Apply to temples, back of neck, feet or pulse points.