---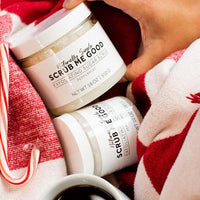 Think candy canes! Peppermint is one of our most popular holiday scents. It's fresh and cooling on the skin and great after a hard workout.
The aroma of peppermint energizes and rejuvenates.
Sugar scrub does it all– removes dead skin cells, stimulates collagen production, prevents ingrown hairs after waxing and shaving, and moisturizes your skin - all in one easy step!
These Sugar Scrubs are perfect for all skin types, especially sensitive skin, and gentle enough to use daily.
Premium Ingredients you can pronounce: Sugar, coconut oil, avocado oil, sweet almond oil, vitamin E oil, and essential oils, and natural fragrance oils.