---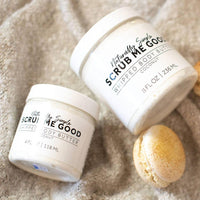 Whipped body butter is made with a blend of natural plant based butters and oils. Our process produces the ultimate in smooth, rich body butter.
We leave out all the fillers and water that most commercial body butters contain, so you're only getting the good stuff.
Our Coconut Whipped Body Butter smells like and island vacation! Our butters are fragranced with only essential oils or natural fragrance oils - no synthetic perfumes or dyes. 
**Relieves dryness
**Nourishes skin
**Improves skin's elasticity
**Evens skin's texture
**Absorbs quickly
Ingredients: shea butter, mango butter, grapeseed oil, jojoba oil, cocoa butter, argan oil, arrowroot powder, natural fragrance.