---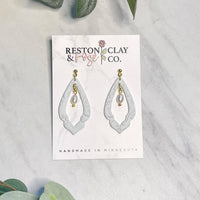 Lace texture and the freshwater pearl dangling from the center, she's elegant and timeless. Whether you wear them to a wedding or just to spruce up an everyday outfit, you'll be the classiest gal in miles!
Each earring is individually cut & styled, hand-sanded, and put together with care. All of my earrings are made with polymer clay and baked in small batches.
While polymer clay is durable, it's not indestructible. Please don't bend, tug on, or twist your earrings. Keep earrings away from water, perfumes, and oils and store them in a dry place.
All pieces that touch the ear are 18K gold-plated & nickel-free, making them hypoallergenic and perfect for sensitive ears.
PLEASE NOTE: Due to the handmade nature of my items, colors, designs, shapes, etc. may vary slightly.